Tuesday 29th September 2020
On the 20th March 2020, the Society of London Theatre announced that all theatre performances in the West End would be cancelled until further notice due to the COVID-19 pandemic. This news created some obstacles to our cherished theatre industry, and a lot was left uncertain. Six months later however, a handful of West End theatres have at last announced a welcome return. At this point in time, the government is operating from a five-stage roadmap to the re-opening of the performing arts; we have now reached stage four, which allows indoor performances to resume with socially distanced audiences. The fact that we have already reached stage four out of five highlights the clear progress we have made in recent months, and this is certainly news to celebrate.
Over the past few weeks, certain West End producers have declared their intention to get their shows back up and running as soon as possible. For example, Nimax Theatres recently announced they will be re-opening six out of their seven West End venues in the coming months. This is an extremely bold move, and one which is worthy of a high commendation. Whilst the company will operate at a loss, they will be bringing employment to dozens upon dozens in our much-beloved industry. It's truly a joy to see the West End re-open its doors and, whilst there's still a long way to go, this is a step in the right direction. Without further ado, here are the West End shows that will be operating in the coming months:
Adam Kay: This Is Going To Hurt
Apollo Theatre: October 22nd-November 8th
For those looking for some comedic relief during these uncertain times, award-winning comedian Adam Kay's one-man show is likely the perfect fit. In this unique comedy routine, Kay speaks of his career as a junior doctor and his involvement in the National Health Service; a subject matter which is more relevant than ever. Not only does he combine politics and humour, but music is also featured throughout, showing that Kay is well and truly a jack of all trades. This is set to be an extraordinary event, and not one to be missed!
Everybody's Talking About Jamie
Apollo Theatre: November 12th-Onwards
Everybody's Talking About Jamie will be the first West End musical to re-open, paving the way for other musicals to open in the near future. Musicals have been sorely missed in London during this time, so November 12th will be a day to rejoice. Jamie is extremely upbeat, featuring a heart-warming story, as well as several catchy tunes. The show is filled with fun from beginning to end and is a sure-fire way of escaping your worries. The hit musical is being adapted for the big screen in early 2021, so its comeback in London's West End comes at the perfect time.
Six the Musical
Lyric Theatre: November 14th – January 31st
Prior to lockdown, Six's permanent home in the West End had been the Arts Theatre. However, in order to accommodate a larger number of theatregoers, it was announced that the show would be transferring to the Lyric Theatre (previously home to Thriller Live). Six took the West End by storm when it first opened in 2019 and was well-received by people of all ages. Whether you're 9 or 99, this really is a show for everyone. This show is a true crowd-pleaser and has brought joy to so many different people, and we're very glad to see it back so soon.   Tickets
Magic Goes Wrong
Vaudeville Theatre: November 17th-Onwards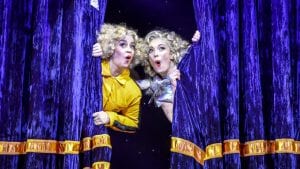 Following on the from The Play That Goes Wrong and Peter Pan Goes Wrong, the Mischief Theatre Company present their third entry to the series with Magic Goes Wrong. After opening in early 2020, it received rave reviews from all the major news outlets, including The Sun, the Daily Mail and The Times. The show amalgamates the classic 'Goes Wrong' formula with spellbinding illusions, which have been brought about by American magic legends Penn and Teller. As a result, whether you are a comedy lover or a magic lover, this really is the show for you.
The Play That Goes Wrong
Duchess Theatre: November 19th – Onwards
The Play That Goes Wrong first started performances at the Duchess Theatre in 2014 and has since become one of the most popular comedies in all of London's West End. The show went on to win the Laurence Olivier Award for Best New Comedy and inspired the Mischief Theatre Company to write numerous other entries to the 'Goes Wrong' series. Beyond this, the show enjoyed a transfer to New York's Broadway, and also toured across Australia. The Play That Goes Wrong is utterly hilarious, and it's not to be overlooked!   Tickets
Get Up, Stand Up!
Lyric Theatre: 6th February – Onwards
As well as old shows returning, there are also a handful of new shows that are scheduling to open in the coming months, one of which is Get Up, Stand Up. The new musical will chronicle the life-story of Jamaican singer-songwriter Bob Marley, famous for hit songs such as 'No Woman, No Cry' and 'Three Little Birds'. The show will star Arinzé Kene in the leading role; an up and coming West End hero, known for both his acting and playwrighting abilities. This will mark the world premiere of 'Get, Up, Stand Up!', and it'll be interesting to see the response it garners among theatre and Bob Marley fans alike. Tickets