Evening Standard Theatre Awards – Who's Likely To Win?
Monday 18th November 2019
The Evening Standard Theatre Awards were first established in 1955, after which they soon became a yearly occurrence. They are the oldest theatrical awards ceremony celebrating West End theatre, thus highlighting their importance and significance. They are organised by the Evening Standard newspaper and are hosted by the paper's owner Evgeny Lebedev. Journalist and editor-in-chief of Vogue Anna Wintour also co-hosts a portion of the ceremony.
Awards are always enjoyable occasions, and it is particularly fun to try and fathom a guess as to which shows, and performances, will come out on top. In this article, I will attempt to predict how tightly contested each race will be, as well as who the likeliest winner is. Only time will tell if I am correct in these predictions, but without further ado, here they are:
Best Play
NOMINEES:
Downstate
Ear for eye
Glass. Kill. Bluebeard. Imp.
Sweat
PREDICTED WINNER: Sweat
The race for the highly prestigious award for 'Best Play' appears to be an exceedingly close race between Downstate and Sweat. On the one hand, after opening at the Gielgud Theatre earlier this year, Sweat received 5-star rave reviews from some the West End's most notable reviewers, including Guardian critic Michael Billington. It is also important to note that the play has picked up a number of accolades already, including the much-respected Pulitzer Prize for Drama. On the other hand though, Downstate was the play to receive the most Evening Standard Award nominations, which may suggest that the panel are slightly more favourable to this play than Sweat. I was lucky enough to see Downstate during its limited run at the National and can confirm that it would be more than worthy of receiving this award. As a consequence of this, the vote between these two plays could be very close indeed. I believe that Sweat may ultimately have a very slight advantage, but it is not unreasonable to predict that either play could win.
Best Actor
NOMINEES:
K. Todd Freeman – Downstate
Francis Guinan – Downstate
Tom Hiddleston – Betrayal
Wendell Pierce – Death of a Salesman
Andrew Scott – Present Laughter
PREDICTED WINNER: Andrew Scott – Present Laugher
I am personally of the opinion that Irish actor Andrew Scott has the strongest chance of winning the Evening Standard Theatre Award for Best Actor. In the Old Vic production of this Noël Coward classic, Scott re-invented the role of Garry Essendine as a bisexual character. This new interpretation of the character received a positive response, with Time Out critic Alice Saville calling him "frighteningly good". Despite this, there is also a strong possibility that Tom Hiddleston could win the award for his performance in Betrayal. The Evening Standard Awards have somewhat of a reputation for awarding A-List celebrities, and as a result Hiddleston's extraordinarily high level of fame may give him an advantage. Wendell Piece, of Death of a Salesman, may also be a dark horse in this race. Similar to Scott, Pierce has re-invented the leading role in his respective play, making history by becoming the first African American actor to portray Willy Loman. Whilst I still believe Scott winning is the likeliest outcome, I would not be too surprised if either Hiddleston or Pierce ended up victorious.
Best Actress
NOMINEES:
Hayley Atwell – Rosmersholm
Cecilia Noble – Downstate / Faith, Hope and Charity
Dame Maggie Smith – A German Life
Juliet Stevenson – The Doctor
Anjana Vasan – A Doll's House
PREDICTED WINNER: Dame Maggie Smith – A German Life
Dame Maggie Smith appears to have the best chance of winning the Evening Standard Theatre Award for 'Best Actress'. Smith is a veteran actress, with an extensive list of theatrical credits spanning over 68 years. She is arguably one of Britain's most recognisable actresses and was made a Dame by Queen Elizabeth II in 1990. For her work in the theatre, she has received previous Evening Standard Awards in the years 1962, 1970, 1984, 1994 and 2013. She has won every single time after being nominated, so the odds are unquestionably in her favour. Smith is a much beloved actress across the entirety of the nation and is viewed by many as iconic. Despite this, Hayley Atwell may have an outsider's chance of winning for her performance in Rosmersholm. Rosmersholm received a string of 5-star reviews, with Atwell listed as one of the show's many highlights. For example, Guardian critic Billington referred to this performance as "breath-taking". I still strongly believe however that Dame Maggie Smith has the strongest odds by far.
Best Musical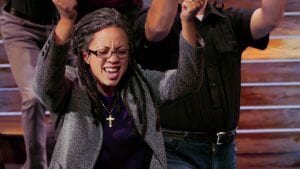 NOMINEES:
Come From Away
Evita
Fiddler on the Roof
Sweet Charity
PREDICTED WINNER: Come From Away
The contest for 'Best Musical' is yet another two-horse race that could be hard to predict. The two leading contenders for this particular award are Trevor Nunn's revival of Fiddler on the Roof and the West End transfer of Tony-Award winning musical Come From Away. When arguing that Fiddler is likelier to win, one may point to the fact that it received an overwhelmingly positive response from critics. For example, arts journalist Mark Shenton referred to it as "a gorgeous production of a simply glorious musical." In opposition to this however, Come From Away has proven to be extremely popular with London audiences. Most performances are close to sold-out, proving that theatregoers have accepted this musical with open arms. In addition to this, Come From Away also received the most Olivier Awards for any show at the recent ceremony earlier this year. As is stands, the race is a toss-up, but I would personally give a slight edge to Come From Away.
Best Musical Performance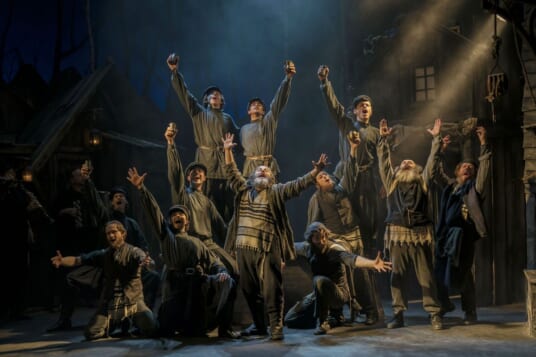 NOMINEES:
Anne-Marie Duff – Sweet Charity
Andy Nyman – Fiddler on the Roof
Sheridan Smith – Joseph and the Amazing Technicolour Dreamcoat
PREDICTED WINNER: Andy Nyman – Fiddler on the Roof
The race for Best Musical Performance is virtually impossible for one to predict; this particular verdict is harder to reach than all of the other categories combined. It would appear that there are strong arguments to be made for all three of the nominees, and any one of them could emerge victorious. Whilst I did not personally see Anne-Marie Duff in Sweet Charity, I know for a fact that she is a highly versatile and talented actress and is thus a strong contender. The same can be said for Sheridan Smith, who has also previously been nominated for Evening Standard Awards in 2010, 2011 and 2016. For her performance in Flare Path, the Evening Standard committee gifted her with a 'Best Actress' award. Despite these factors, I have selected Andy Nyman as my prediction for 'Best Musical Performance'. The Evening Standard Awards have shown through their chosen nominations that Fiddler on the Roof was one of their favourite shows of the season. As a result, they may wish to reward the production with an award for Nyman's portrayal of leading character Tevye.